Small Business Networking and Technology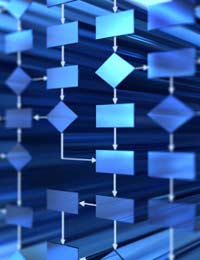 Business technology should be used primarily to increase productivity and take the strain out of work life, and that includes computer networking systems. If you are not an IT aware person then computer networking may seem like a maze you do not wish to enter. But at its most basic it is simply the technology used to allow communication from one person to another via a computer.
Computer Networking Systems
If you are not technically minded then you probably leave your entire computer networking technology to your IT support team. However, the basic principles behind your network will include computers linked to cabling known as switches, which are linked to a router, which is linked to a broadband gateway. This technology allows computer users worldwide to communicate with each other via their computers.
Internet Access and Small Businesses
Most small businesses will obtain their Internet access through telephone or cable companies. The Internet Service Provider (ISP) allows you to obtain access to their network so that you can use their Internet services. Routers are used to connect one or more computers to the ISP. Routers are the go between of the ISP and the small business network. They will have firewalls built into them that scan for viruses or other threats. Routers also make sure that the correct data is sent to the correct computer within a business network.
The IP Address
Each computer in a network must have an Internet Protocol (IP) address that is used so that computers can actually find each other. Think of IP addresses as house addresses for computers; they are used so that computers can find, identify, and communicate with each other. Computers on the same network will have similar addresses but they will be unique and have variations.
Wireless Networking
Wireless networking or WiFi is a radio frequency technology that allows data to be transmitted by using a wireless network. Basically it's a means of accessing the Internet wherever you wish by using WiFi hotspots. WiFi hotspots can usually be found in restaurants, bar, cafes, hotels and airports and there are over 10,000 WiFi hotspots in the UK alone. WiFi can also be used in business premises for wireless access to the internet via laptop computers, and has become very popular with Internet users who work outside of the office environment.
Computer Networking and Business
All of the technology mentioned above, and more, go to form a computer networking system. This technology has revolutionised the way the world conducts business. Whereas business networking previously meant meeting with clients and colleagues in person the computer is now the main form of business communication. Online business applications for the Internet are endless and most businesses would not be able to exist without this computer technology.
Cost of Computer Networking
Computer networking is relatively inexpensive to set up. The internet service provider will supply everything that is needed to get a company online. Computers can be hired from leasing companies but are now also inexpensive to buy. IT support should also be available from your internet service provider at no extra cost, although larger businesses may need to hire IT support on a part time basis.
Cost Effectiveness of Computer Networking
You really cannot put a price on the benefits of business computer networking. Computers and the Internet are now used in almost every aspect of business, and is one of the cheapest communication tools available. Keeping in touch with clients and customers worldwide, advertising and marketing, home workers and outsourced staff, even staff receiving their salaries are just a few of the uses that have become simple via computer networking. Internet shopping has become a huge market and if a sales business does not incorporate this technology use they will fall behind their competitors.
It is true to say that computer networking is the lynchpin behind most businesses in today's society. It is a vital business technology, and most businesses would find it impossible to operate without it. If a business is to succeed today, an up to date computer networking system must be set in place to cope with communication requirements, and simple day to day business tasks.
You might also like...