Using Laptops in Your Small Business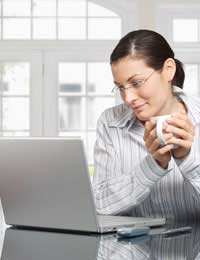 Laptops are now essential business tools for many workers. Lightweight and portable with wireless capabilities mean that offsite workers can now stay connected with the office at all times. Nearly all the software packages that are available for desktop PCs are available for laptops, and small businesses will benefit from the portability that laptops bring.
Choosing a Laptop
Some people are desktop PC users and some swear by laptops, it all really depends on preference and how mobile you need to be. Laptops come with a variety of user specifications and can even be custom built to suit the user's need. Price will vary between makes and models, but a good business laptop does not really need to cost more than £500. However, the high end professional models can cost more that double that price.
Most laptops will come with all the software preloaded and newer models will be WiFi ready. This means that out of the office workers can log onto the internet using wireless hotspots. There are different laptops available for different business sectors. For example someone who works in graphic design or journalism may go for professional Mac laptops that have powerful software packages specifically designed for this industry.
Benefits of Laptops
The mobile benefits of laptops are fairly obvious, and they are a great solution for taking work home. Salespeople also favour laptops for their portability and easy connectivity for staying in touch with the office. Other benefits of laptops include:
High speed wireless connectivity.
Good branded laptops have excellent longevity.
Laptops can be customised to the user's requirements.
Laptop screens have become sharper, giving better image quality than some desktop PCs.
Space efficient size and less cabling is needed to run a laptop.
Laptops and Security
Laptops sometimes receive a bad press regarding business users and wireless hotspot security. Public wireless hotspots use open networks where there is more chance of someone accessing your laptop data. There are ways to avoid this sort of data snooping including only using wireless hotspots that run encryption protocols. Using wireless systems from home should not be a problem as long as the network is password protected.
Always Install Firewalls
Firewalls prevent unauthorised users from accessing your network and should prevent infections, spyware and viruses. If you have a business network then your IT section should already have a firewall system set in place. However, there are plenty of free downloadable firewall applications available on the internet. Some operating systems will already come with built in firewall protection. If your laptop is a new one then this protection should come as standard.
Laptops and Theft
There have been many media reports about government officials leaving laptops containing important information in cars only to find them stolen. There is software available that can be downloaded that will sound an alarm if anyone tries to steal your laptop. It will not stop anyone actually grabbing your laptop and running off, but it does mean if you are nearby you have a chance of retrieving the laptop.
Laptops do seem to make more sense than desktop PCs for the small business, especially start up businesses. The low cost, easy use and portability puts them above desk top PCs in some user's eyes. Laptops are indispensable for out of the office workers, and voice over internet protocol (VoIP) means that laptops can even be used to make phone calls. Buyers should tailor the laptop's specification to their exact requirements and should always make sure that a full warranty is included with the purchase price.
You might also like...