FAQ: Cloud Computing Technology and Small Businesses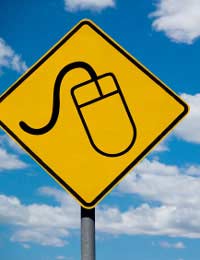 With the high cost of information technology still presenting a burden on some businesses, using the Internet as a technology platform has been slowly developing. Using the Internet and the data 'cloud' that it creates can provide cost savings and additional functionality that all businesses can benefit from.
What Exactly is Cloud Computing?
Think of cloud computing as an ICT (Information and Communications Technology) on demand. Instead of installing more computers and installing additional software, you simply buy the services your business needs that are hosted on the Internet. Often also called distributed computing, the on demand approach is closely linked to SaaS or Software as a Service approach to developing and utilising a businesses mission critical systems. Ultimately, cloud computing is outsourcing your businesses IT requirements.
What Are the Major Platforms Available?
Today there are basically three major cloud computing service providers:
Amazon
Because of Amazon's massive success in the E-commerce market, they have build up detailed experience about how masses of data can be handled and then delivered to the end customer through their online stores. Amazon's Web Services (AWS) uses that knowledge and the hardware infrastructure that supports it to offer IT services to any business that is connected to the Internet.
Also from Amazon is their Elastic Compute Cloud (EC2) hosted computing service. If your business uses traditional client/server relationships to run its hosted services, these can now be moved to EC2. Both Windows Server and Microsoft SQL Server services are supported. Your business pays for only the services it requires in a sliding scale of charges.
Microsoft
The Seattle giant may be married to the computer desktop as a delivery platform, but even they have realised that many services can be more economically delivered over the Internet. Microsoft's Azure Services Platform is hosted within Microsoft's datacentres. Moving the actually hardware element of a services development makes sense as costs can be reduced. In effect your business can piggyback on the huge datacentre infrastructure that Microsoft have built up.
Google
The search engine leader has spent the last few years diversifying its services. The Google App Engine that enables businesses to build Internet based applications that use Google as their hosting platform. If your business already used any of the Google APIs (Application Programming Interfaces), the App Engine seamlessly integrated with these platforms.
Is Cloud Computing For all Businesses?
In essence any business can use the cloud services that are on offer. From simple data storage via Amazon's services to full-featured web-based customer services applications built with Google's tools, your business could easily find that cloud computing is a viable alternative to traditionally in-house systems.
Clearly if your business already uses the Internet perhaps for a customer facing E-commerce site, cloud computing is a good fit with your existing systems. However, this doesn't exclude any business that has an IT function from exploring that cloud computing could deliver. The advice is to look closely at your needs and then match these to the available cloud platforms. The cloud as an ICT environment is certainly new, but it will become commonplace in the near future as distributed services become the norm.
How Can I Make the Most of Cloud Technology?
Planning is the key to making the most of the cloud platforms that you can buy now. Not all applications will be ideal for a cloud makeover. If hosted data is at the heart of your business or new application, then cloud computing can be a godsend as you can in effect move all of your applications functionality to the cloud.
Do I Need Any Specialist Knowledge Within My Business?
If your business already has a level of expertise in developing web-based products or services, building new application for the cloud should present few problems. Systems like Google's Web Toolkit are based on JavaScript that should be familiar to any developer building systems for the web.
What About Wireless Technology?
Indeed, the power of cloud computing is its decentralised approach to data storage and application service. Breaking the tether between your business's servers and its customers is powerful and completely practical with high speed mobile data now available. Accessing cloud-based services wirelessly no matter your location is the future of the business/customer relationship.
You might also like...