FAQ: How You Can Ensure Your Business Data is Secure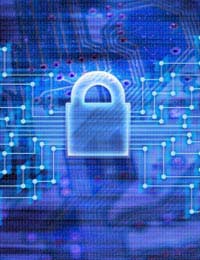 The data that your business contains is precious. Your enterprise could have spent years gathering information about its market sector, and the customers it sells to. Ensuring that data is safe and secure should be a top priority for all enterprises.
What Kind of Threats Should I Be Aware of?
The data in your business can be attacked on a number of fronts. These include:
Attack from within your business by staff. These attacks can sometime simply be accidental, or in more serious cases malicious.
Computer viruses. The Internet is awash with computer viruses any one of which can infiltrate your computer systems and destroy data.
Hacker attack. Computer hackers are still a real and present danger for all businesses that hold sensitive data.
Loss of data. This can happen even though your computer systems have not actually been attacked by a hacker or virus. Poor backup systems can often lead to data loss.
Attack by spyware. Not to be confused with computer viruses, spyware and malware are malicious pieces of computer code that can infect your systems and in some cases cause great damage.
'Phishing' attacks - where your email address will have been obtained by dubious means and you will receive email requests (from what appear to be authentic organisations) for information about your bank account and your bank details.
What Are the Key Steps I Should Take to Secure My Data?
There a number of easy steps that you can take to protect your business's data:
[1] Turn on your computers and servers firewalls
You would be surprised to learn that many computers do not have their firewalls activated by default. It is often assumed that the firewall is active, when in fact it is not. Double check all your computers that have access to the Internet to ensure their firewalls are switched on.
[2] Keep your operating system up-to-date
Computer viruses and spyware continue to evolve. To ensure your computers are safe switch on automatic updating of your operating system. This will ensure your systems are up-to-date and have the latest security patches installed.
[3] Install anti-virus software
Many business believe their systems are safe from computer viruses when they are not. Anti-virus software isn't an install and forget exercise. Anti-virus software must be kept up-to-date with additional virus 'definitions' to keep the software effective. The definitions tell your anti-virus software about any new viruses to keep an eye out for. If your computer isn't aware of new viruses it can't detect and then eliminate them.
[4] How to disable Windows Scripting Host (WSH)
Windows Scripting Host enables programmers to take more control of the Windows operating system. The downside from a security point of view is that hackers can also infiltrate a computer via the WSH system. Note that if you are running Windows XP or earlier, you can switch off WSH. Windows Vista does not support this system and is therefore safe.
[5] Don't allow email attachments
As email has become an essential component of every business, hackers have focused on using email attachments as a way of gaining access to computer systems. Educating your staff to think twice before opening an attachment they are not expecting can dramatically improve the overall security of your systems.
What is the Best Way to Backup My Data?
Backing up every megabyte of data within your business is often completely overlooked. Today there are a wide range of backup solutions that can be implemented. The most commonly used back up method it to copy all your data to an external hard drive on a regular basis. Backing up to none volatile media like tape or DVD is also an option, although the latter has a limited amount of space. And finally you could use the online backup services that are now available. They can, however be expensive if you need to backup gigabytes of data.
What About My Wireless Network?
Yes, one of the most serious vulnerabilities your data faces is from poorly set-up wireless networks. With more and more businesses using these systems, security should be your top priority. Securing a wireless network is relatively simple nowadays with WPA or WPA2 in wireless routers.
You might also like...