Business Technology to Keep Staff Happy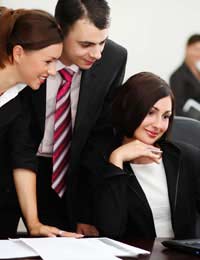 Employers have found that implementing business technology is one of the many ways known to keep staff happy. Having up to date labour saving technology solutions not only keeps staff happy but also increases productivity and cuts costs. Keeping customers happy using the latest technology also has the knock on effect of keeping staff happy and reducing staff turnover.
Happy Staff are Productive Staff
A pay rise is not the only way to keep staff happy, although it usually helps. The latest business technology not only has major business benefits but can lead to a happier workplace and boost staff morale. Outdated technology can lead to staff frustration especially when it comes to communication systems. If a business doesn't use the latest time saving technology such as the internet, email and business management software systems they will find it hard to hold onto their staff.
Technology and Staff Turnover
Most employees will expect the businesses they work for to have the latest technology available. It is not a case of staff simply wanting to surf the net during downtime but of actually being able to give a professional service. If a business is sales based then most consumers will want the latest communications system and the opportunity to shop online. Implementing this technology is not just a case of saving on labour it is also cost effective and required to compete with larger companies. Losing out on profits is not the way to keep staff happy in the workplace.
Technology to Keep Staff Happy
There is a whole range of technology that can be implemented into a business that will keep staff happy. Basic business technology that staff should expect will include:
Internet facilities.
Management software systems.
Up to date computers.
Instant messaging facilities.
Business websites.
Laptops for home working.
Paperless office solutions; no more filing.
Good IT backup support.
Technology Appeals to Staff
It's true that first impressions counts and staff are much more willing to take a job if the workplace is up to date with its technology. Workers do not expect cutting edge high tech devices but at least the communications systems should be up to date.
If businesses do not take technology seriously then most of today's technology savvy employees will not see the business as a long term career prospect. Out dated technology will also reflect badly on the leadership and business skills of any employer who does not see the advantages of business technology.
Good Customer Relations and Happy Staff
Any business that deals with customers recognises that customer relations are an important issue. No matter how much technology is implemented into a workplace there are always going to be some unhappy customers. However, having technology that can have customer details in front of staff with only the click of a mouse will help with providing a professional service.
Business management software systems can help make all aspects of online shopping a lot easier for both staff and customers. Payments, tracking deliveries, customer details and invoicing can all be provided easily with these software systems. Management software systems provide rapid and efficient solutions to online shopping and other office tasks. This should ensure that staff can provide a more efficient service and can appear more professional to customers.
The Internet and Staff
The internet is widely used in business and can be a powerful business tool. There are many businesses that have banned the internet completely from their workplace through fear of abuse. However, many businesses will allow staff to use the internet based on a trust principle.
Banning the internet does not need to be the answer and there is software available that can restrict the viewing of certain websites. Businesses that do allow employees to use these facilities are looked on by employees as more progressive, and employer/employee trust does lead to a happier work environment.
Business technology has now become a required tool to increase productivity and keep staff happy. Technology will allow employees to be more efficient and professional when it comes to their jobs. For a number of employees, such as off site workers and home workers, this technology is a necessity. The good news is it does not cost much to implement vital business technology, and the rewards can be hugely beneficial to employers, staff, and customers.
You might also like...
fantastic piece of post.keep it up
JUSTOZ WACHOZ
- 12-Oct-13 @ 11:36 AM