Technology for Work at Home Staff or Teleworkers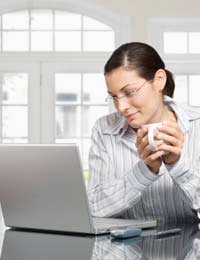 Technology has been responsible for a huge rise in the number of staff who work from home, sometimes referred to as telecommuting. The technology needed to work from home is minimal and easily implemented, and this employment method is seen by many as the ideal low overhead business solution.
The Rise in Telecommuting
The number of people who work from home has risen significantly in the last few years. Millions of people now take advantage of digital technology to achieve a better work/home life balance. For a great number of people it is now no longer a case of simply taking work home from the office, now their home is the office. Figures by the Office of National Statistics (ONS) show that around 10% of the UK work force are telecommuters.
Benefits of Telecommuting
Some workers and employers see working from home as the solution to a number of business issues. For many businesses and employees the main benefits to the work from home sector are:
Flexibility to work wherever and whenever they want.
A better work and home life balance.
Telecommuting saves on fuel costs and has environmental benefits.
Opens up the job market for stay at home parents.Employees can be sourced from a world wide market.
Very low overheads for those starting a small business.
Telework can be part time, full time or contract work.
Employers can contract work out to freelancers, which means saving on the paperwork of tax, sick pay and national insurance.
Technology Needed to Work from Home
The technology need to be able to work from home is quite minimal. In most cases all that is needed to work from home is a computer, broadband connection and a telephone line. If the person working from home is permanently employed by a company then this technology may be supplied by the company.
In many cases the telecommuter may have started off as a member of on site staff and then progressed to working from home. If this is the case then a second telephone line may be installed in the home and the computer may be integrated with the businesses own online network.
Other Telecommuting Technology
A great number of work from home employees are taking advantage of digital technology to enable cheaper costs and better communication systems. Voice over internet protocol (VoIP) telephone systems are very popular with home workers; they are easy to implement and world wide call costs are very cheap. Web conferencing technology using video technology allows stay at home workers to talk face to face with colleagues, employers, and clients anywhere in the world, at any time. Instant messaging is also very popular as an online immediate form of communication.
Telecommuting Anytime and Anywhere
Technology allows employees to telecommute not just from the home but practically anywhere. Mobile broadband and wireless hotspots allow on the go workers to keep in immediate contact with the office. Of course there are always mobile phones that can now be used to connect with the internet and send data back to another location. Digital cameras can hook up to laptops and again instantly send pictures and images back to an office location.
Work From Home IT Help
IT help and support is also easily available to those who work from home. There are a number of IT solutions available without the need for any permanently employed IT support. Telecommuters can pay for instant online help, or assistance via the telephone. If call outs are needed then they can be "as needed only" for one off callouts. A simple internet search for IT help will bring up a range of different options for a range of IT help solutions.
The technology available to allow people to work from home is becoming increasingly sophisticated. As with all technology the price will be quite high when new technology solutions become available; simply wait a few months and the price will drop. Shopping around online and comparing prices should guarantee that you can get the best prices to suit your exact requirements.
You might also like...