How Technology Can Help Your Business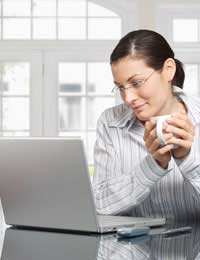 Technology is the lifeblood of most small businesses, and is a vital component in competing with larger business competitors. Customers now want to purchase, pay for and receive goods rapidly, and most will take it for granted that this can be achieved with the use of technology.
Business Technology and Business Competitors
Using technology is now one way that small businesses can compete with bigger companies. Small businesses can utilise the internet to order, pay for, and sell goods, and it is one of the ways that technology has been used to level the playing field with larger competitors. In fact most businesses are now aware that if they don't have a website they will lose out on a huge amount of profit, and decrease their customer base.
From Production to the Customer
Technology in business can be used from the initial production of goods and services straight to the customer's door. Internet only businesses are now a significant percentage of the business marketplace. Almost every business now benefits from an internet website where customers can browse, purchase and pay for products. Technology has made the consumer marketplace larger, from online banking to booking a holiday to grocery shopping online; almost anything can be sold and purchased online.
Simplifying Business with Technology
The use of computers in the workplace has made the business world more efficient and more streamlined. Many businesses have now implemented the paperless office where all customer and staff records are held on databases. Customer and client records, accounts, tax and staff information were once stored in rows of filing cabinets but now only take up a fraction of computer memory. Repetitive typing of client letters and invoices can now simply be achieved with the click of a mouse. Technology has taken much of the stress and strain from the workplace, especially with communications.
Business Technology and Communications
Communication systems are one of the most important ways that technology can help small businesses. The Internet and email now mean that it is easier than ever to talk to other businesses and customers around the globe. With affordable leasing options the most up to date communications systems are well within reach of even the smallest business. With the advent of the Internet it is now possible to hold a video conference with staff and customers around the world. This means that small businesses can now reach a global marketplace, which was once the domain of the big corporate sellers.
Technology and Staff
Staff are now used to technology in the workplace, and there is a whole generation of computer savvy workers. Where once computers were seen as new gadgets they are now viewed as the lifeblood of an organisation. In fact it is not uncommon for business production to stop while the Information Technology team is called in to fix a crashed computer.
Technology and Home Working
Working from home can also now be easily achieved with the use of computers. Wireless communication devices have made it simpler to keep in touch with staff, and the increasingly sophisticated communication devices available reflects this work requirement. Outsourcing work to independent workers and professionals around the globe has also become an easy process due to the internet and new communication systems such as voice over internet protocol (VoiP).
It's true to say that technology now touches just about every aspect of business. Staffing, marketing, advertising, and selling have all been simplified due to the implementation of technology. If a small business wishes to have the best chance of long term survival then technology is vital requirement that cannot be taken for granted.
You might also like...