Mobile Broadband and Your Small Business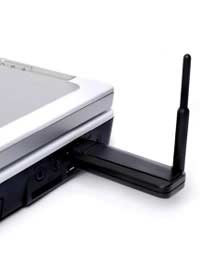 Mobile broadband is the latest technological development that has proved very popular with the small business. With no fixed landline cable, mobile broadband can be taken anywhere and Wi-Fi signals are not needed. With costs from as little as £10 per month, mobile broadband looks set to maintain its popularity as a business communications tool.
What is Mobile Broadband?
Mobile broadband is basically the Internet without the need for landlines. The big mobile network companies have all cottoned onto mobile broadband and offer wireless networking using mobile phone signals. All that is needed is a dongle that slots into a laptop and access to a mobile network signal. With 90% network signal coverage in the UK, even those that live in the remotest areas can use this technology.
Cost of Mobile Broadband
Since its introduction mobile broadband has been reducing in price. Business users can either opt for pay as you go with no contract or a long term contract. The broadband dongle is free for those that sign a contract, and a charge is made for pay as you go users. The price for usage is very competitive, and those considering purchasing mobile broadband should shop around the big networks to see the best offers. Offers are continually changing and the pay as you go dongle has been continually reducing in price.
Mobile Broadband Speeds
Download speeds are arguably faster than the old dial up Internet connections and are comparable to landline based broadband speeds. The mobile networks are due to merge their mobile broadband facilities and this should make a significant difference in speed and the amount of mobile broadband coverage. At the moment, mobile broadband is capable of speeds of around 7.2 Mb per second; almost double that achieved by most home broadband connections.
Business Applications for Mobile Broadband
As you can probably guess the biggest advantage of mobile broadband for a business is the fact that it can be used anywhere. Workers who are mainly in the field can simply plug the dongle into the laptop and they are instantly connected to the Internet. They can email, upload and download files, use instant messaging and make video calls. In fact any application that can be achieved with a desktop computer and broadband line can be achieved with mobile broadband.
Small Businesses and Mobile Broadband
Mobile broadband has made it easier than ever for home workers to start their own small business. Buying and selling online has become a huge home business market. Thanks to the Internet, customers can be easily reached in a global arena. Business websites are becoming less expensive to set up and are very easy to run. With online payment options, instant messaging and video conferencing it has never been easier or cheaper to run your own small business from home.
Eliminate the Fixed Landline
Mobile broadband has made it to easy to have access to the Internet wherever you are. There are still some areas in the UK where normal broadband is not accessible but with mobile broadband this is now not a problem. Many business and non business users are now switching to mobile broadband due to the cheaper costs and flexibility it brings. Pay as you go mobile broadband means that you are not fixed to an 18 month or two year contract. For some people this freedom to work from wherever they want is one of the major reasons to purchase mobile broadband.
Mobile broadband looks set to go from strength to strength. Business users are now not limited to the office or Wi-Fi hotspots if they want to get online and conduct business. The cost is minimal and the online IT support is excellent, and it may be that normal fixed broadband could soon become a thing of the past.
You might also like...