Technology for the Paperless Office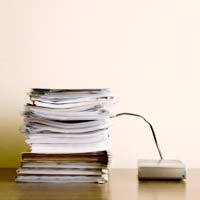 In an ideal world the paperless office would be a standard business practice, and with the today's technology the paperless office is easy to create. There may be some initial extra work involved with the set up and actual scanning but once implemented a paperless office can increase productivity and cut costs.
What is a Paperless Office?
A paperless office is, as the name suggests, an office without paper. Most offices have row upon row of filing cabinets stuffed with documents, contracts and memos, many of which haven't seen the light of day in years. Implementing a paperless office means that all documents are stored on a computer system and can be found with just the simple click of a mouse. No more sifting through files or printing out documents or indexing and binding.
Benefits of a Paperless Office
There are numerous benefits to implementing a paperless office. Cost and time saving factors are two of the biggest benefits. Staff no longer need to print out and file documents, and with email attachments they no longer have to send them either. Other benefits include:
Paper budget is decreased.
Security; all documents can be backed up to an outside destination or kept on discs.
Space saving; no more filing cabinets cluttering up the office.
Very inexpensive and easy to implement.
Easy to use and easy to find every stored document.
Implementing a Paperless office
Although the technology used in the paperless office is easy to implement the transition will not happen overnight. For one thing, not everyone is paper only; you may be fully paper free but not all businesses will be. This means that you will still need to print out documents for those clients that do not accept email attachments and require hard copies. You can still implement your own paperless office but keep some previous technology for those that require paper documents.
Technology for the Paperless Office
You probably already have some of the technology required to implement a paperless office; the internet and scanners are a necessity. You will need a scanner or scanners in order to scan all documents onto your computer system. Always buy a professional business scanner; the small scanners that can be bought in computer stores will usually be too slow. Go for a scanner that can scan at least 20 pages per minute and has good sized sheet feeder; one that will take around 25 pages should be adequate.
Document Management System
A document management system will be needed to enable scanning, storing and tracking of all documents. There are many different document management software packages available and you should choose one that is relevant to your business. For instance you can buy document management systems software specifically designed for accountancy documents with templates for different types of documents.
If you are a technophobe then go for a document management system that is very user friendly. The system should have easy to use imaging, tracking and archiving tools. It should also be easy to integrate within your own business network meaning that it is linked to multiple PCs. It should also have an easily integrated backup facility for storing files to another source such as DVD discs and remote hard drives.
Backup Systems
Backing up data is a very important aspect of the paperless office. Backup files such as discs, hard drives or even online back ups should always be used. With a backup system your information is stored safely in case of any computer malfunctions where data might be lost. Online backup systems have become very popular and your internet provider should be able to provide this facility at no extra cost.
Becoming a fully working paperless office will not happen overnight. But implementing and using this technology will save time and money and be environmentally friendly. Hopefully in the future all businesses will become paperless. As a cost and time saving business solution alone it does make a lot of sense.
You might also like...