Outsourcing IT for Your Small Business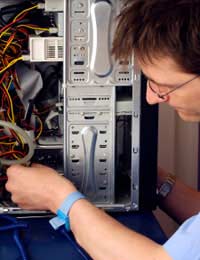 If your small business does not need a full time, onsite IT person, then outsourcing your IT requirements can be an excellent solution. There are many different ways that IT help can be obtained, and payment options can be variable and relatively inexpensive. Small businesses should be able to save money by being aware of their exact IT support requirements.
The Growth in IT Outsourcing
There was a time when businesses could not function without a team of dedicated on site IT personnel. In some large businesses this is still the case, but with standardised operating systems the amount of IT staff has been reduced. The small business cannot usually afford, or does not need full time onsite IT staff, and outsourcing IT requirements will be the most efficient and cost effective option.
IT Outsourcing and Specific Companies
When big businesses decreased their IT business personnel many IT workers decided to start up their own businesses. Many of these IT companies cater specifically for the small business and also for specific business types. This means that if a small business is sales based then the IT worker will have experience in dealing with the types of problems that occur to that company's technology and software. IT problems that are outsourced to company specific IT firms should be able to find and eliminate problems rapidly compared to general IT support firms.
Cost Effective IT Outsourcing
Finance when outsourcing IT services should not be a problem as there is a range of payment options. The small business owner can choose to hire IT services over set amounts of time, for example a yearly or month to month contract. The small business can also choose to have the IT personnel on site part of the time with off site support by telephone and emails. Some IT services can actually be hired on smaller contracts such as a problem only contract; this means the business will only be charged for each specific call out.
Knowing Your IT Outsourcing Requirements
If you are a small business with only a few computers then you probably will not need the services of a large IT company. A local company with online support and a telephone helpline should mean you will cut the costs charged by the bigger companies. The smaller IT companies usually have lower overheads and fewer client accounts meaning you may be able to negotiate a low contract price.
Always make sure that the IT company you choose is familiar with your type of specific system. It's pretty easy to find someone who knows a mainstream operating system but if the system or software you use is less well known then it may prove difficult. Always make sure that the company you choose is suitable for your specific IT requirements.
Finding the Right IT Support
There should not be much of a problem in outsourcing your IT support; you can find companies easily online or in the general phone book. Word of mouth from other companies is also a great way to find competent IT support. If you know of other companies similar to your own, and have a good relationship with them then ask who they use for their IT needs. Always ask as many questions as you need at the first meeting, and ask to see any qualifications. Also ask if they have experience in dealing with your particular systems and software.
IT outsourcing has become a big business but that doesn't mean you have to stick with the big IT outsourcing companies. There are many reputable local IT outsourcing companies that cater for the small business and it may be cost effective to use these companies. Whoever you choose make sure you are satisfied with their level of experience and they have a trustworthy reputation.
You might also like...