Safe Wireless Networking For Small Businesses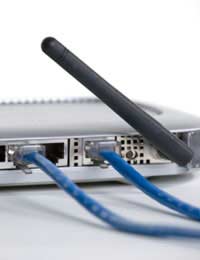 Wireless networking has become increasingly popular within small businesses, and safe WiFi networking has also become a hot issue. The security aspects of wireless networking and corporate data theft have been widely publicised in the media. But wireless business networks should not suffer from the same security issues that are applicable when using public wireless hotspots.
What is Wireless Networking?
Wireless networking utilises radio signals to enable computers and other WiFi enabled devices to access the internet. Connectivity through a wireless router to the network should be seamless, quick, and automatic, affording high speed access to the internet and other computers users. Depending on the size of the business there may be one or more routers used, with various access points controlling the traffic flow. Connectivity distances vary but the average wireless range is usually around 150 feet.
Wireless Hotspots
Wireless enabled devices can also access the internet in public places where there are wireless hotspots available. Wireless hotspots are usually free for all to use but hotspots have the flaw of an open network and its inherent security issues. Wireless security in public WiFi hotspots is practically non existent, and it is never advisable to send or receive corporate date in public areas.
Wireless Security for Small Businesses
There are a number of different security applications available to the small business when it comes to wireless networking. The usual firewalls and anti virus software should always be set in place regardless of whether the business network is wireless or not. Encryption should also be used to stop any outside user jumping onto the business network; this type of wireless theft is known as piggybacking. Passwords used with encryption should be of a high level, meaning a combination of letters and numbers.
IT Support and Business WiFi
Most wireless network products will have security measures already built in. However, wireless manufacturers will usually turn these to a default setting to allow easier wireless implementation by the purchaser. IT support should be able to guide anyone setting up a wireless system through the security process, or set up this security themselves. If the wireless equipment is being set up through a broadband supplier then they should be able to apply security measures when installing.
Setting a Password
Never leave the manufacturer's default password in place when you are implementing a wireless network. Default passwords are very easy for any hackers to spot. It will also give hackers information on the type of hardware that the company uses. Network names should be easy to remember but also unique enough to increase security. Passwords should be stored someplace safe and care should be given as to who can access the passwords. If businesses use offsite IT support then trust is a big issue; these companies will have access to your network and business data.
Wireless Theft
Wireless theft has become a big issue especially with users of the older encryption security known as Wired Equivalent Privacy (WEP). The WEP encryption is very easily breached, which is why most wireless networks use WiFi Protected Access (WPA) and the newer version WPA2. These security applications are pretty much unbreakable unless a hacker decides to spend time trying millions of different password combinations in the hope of finding the right one. Implementing WPA or WPA2 encryption into your wireless network is the best option where security is concerned.
Wireless theft is a big issue for small businesses, and in most cases this sort of theft is very hard to trace. But implementing security measures will ensure that data will be kept confidential and secure. Always take all of the appropriate security measure when installing a wireless network system and never allow temporary password access to visitors who wish to use the network.
You might also like...